VARSITY FOCUS
1. VARSITY FOCUS MAGAZINE - SEPTEMBER 2021 EDITION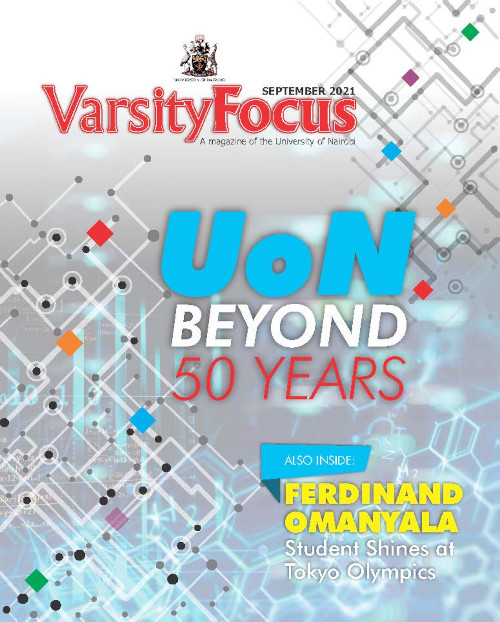 As the University welcomes the 2021/2022 First Year students, we at Varsity Focus would like to wish them a fruitful stay in the University. We would also like to send a warm message of congratulations to the students who completed their studies successfully and have qualifed to graduate this September. The September 2021 issue of Varsity Focus has been published under the theme, "Beyond 50 years", coming soon after the conclusion of programmed activities to mark this milestone in the
history of the University.
2. VARSITY FOCUS MAGAZINE DECEMBER 2020 SPECIAL EDITION UON@50 – ONLINE VERSION NOW PUBLISHED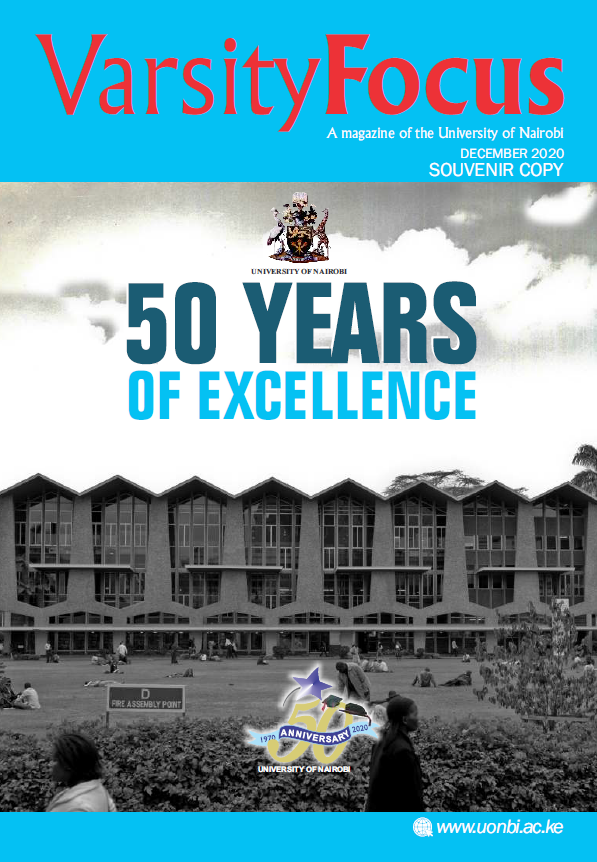 We have prepared this December issue of Varsity Focus in the spirit of celebrating 50 years since the University of Nairobi came into being after its elevation from University College Nairobi, which was one of the three constituent colleges of the University of
East Africa. The University today represents the optimism that was expressed by the founding Chairman of Council, Mr B.M. Gecaga, on the occasion of its inauguration in 1970. Over the years, the University has been thriving due to the strong foundation put in place by the founders and propped by the injection of new ideas from the subsequent leadership. It is gratifying to know
that UoN is now under the leadership of its eighth Vice-Chancellor and continues to function like a well-oiled machine, drawing upon its inbuilt resilience to weather many storms such as the current Covid-19 pandemic.
3. VARSITY FOCUS MAGAZINE SEPTEMBER 2020 – ONLINE VERSION NOW PUBLISHED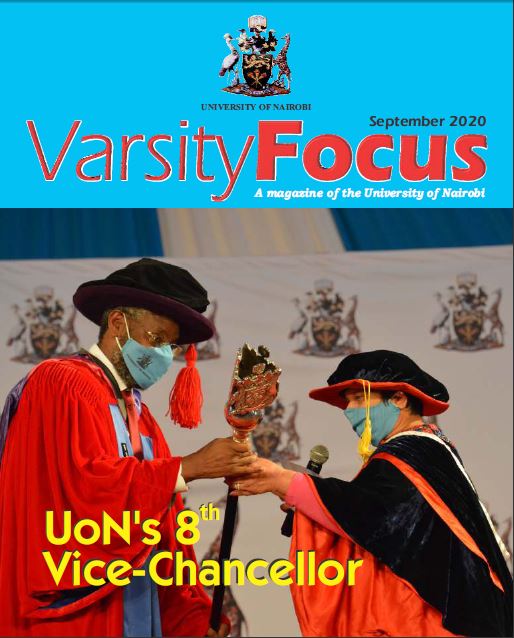 The Director of Corporate Affairs Mr. John A.O Orindi wishes to notify all staff, students and members of the public that the online version of the Varsity Focus Magazine September 2020 is now out. The edition focuses on activities of the University for the first half of the year.

This issue covers the installation of the 8th Vice-Chancellor, Prof. Stephen Kiama, who also shared his vision for the University. Highlighted also is a special feature on the University's key role in the concerted global initiatives in the fight against COVID-19.