On 23 March 2022, the Institute for Climate Change and Adaptation (ICCA), the University of Nairobi and the Mawazo Institute co-hosted in-person presentations and a plenary session.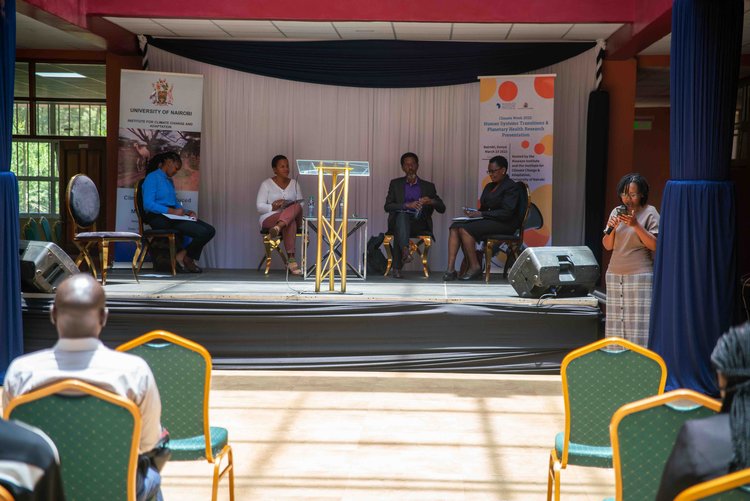 This event explored scientific approaches, critical research, and transformative practices that can help better understand planetary health and its implications for the African continent. This event was co-hosted as part of a week-long climate change campaign with the theme: 'Planetary Health,' which is a solutions-oriented, transdisciplinary field, and social movement focused on analyzing and addressing the impacts of human disruptions to earth's natural systems on human health and all life on earth. Planetary Health includes approaches to human health as well as climate change in its considerations. The activities, co-designed by the two institutes, focused on;
1. Encouraging and building community networks among scientists/experts and with the broader Kenyan public.
2. Fostering thought-leadership and activating new thinking around approaches to Climate Change, by increasing and deepening awareness on Planetary Health as a field.
3. Perception shift on the themes and topics that can translate into changes in behaviour at the individual, institutional, and systemic levels.
The presentations and a plenary session brought together representatives from research, academics, policy, and practice working around planetary health.
The Institute for Climate Change and Adaptation (ICCA) at the University of Nairobi, under the Department of Earth and Climate Sciences. It was established in 2011 with the mission of building the human capacity necessary to address the unique climate change and adaptation needs of vulnerable communities through teaching, action-oriented research, development of innovative technologies and community participation. The Institute also provides expert advice for national and regional policy formulation and implementation. It's one of the centres of excellence in the Africa Research and University Alliance Climate and Development (ARUA-CD) as East Africa's Regional Hub.
The Mawazo Institute is a women-led African organization based in Nairobi, Kenya that supports early-career women researchers as they work to find solutions to local and global development challenges. Climate Week was hosted as part of the Mawazo Voices program, which uses innovative communication tools and public engagement with research to amplify the work of African researchers, and share findings on African women in higher education and research. Through public engagement activities like Climate Week, Mawazo's goal is to establish African researchers in the continent as a source of timely, relevant, and credible evidence for informed decision making at all levels. It's aimed at facilitating open discussion on the challenges currently facing the African continent and exploring possible solutions.